( DO NOT EDIT WITHOUT ALPHA'S OR BETA'S PERMISSION! )

Introduction

You limped through a dark forest, over rough thorns and damp leaves as the moon shone dimly overhead. Blood was left in your tracks from your bleeding paws, which throbbed with pain with every step. The darkness around you seemed to swallow up all hope of survival, and the cold felt like it was soaking into you, numbing your mind until nothing but dread remains. The sounds of the giant noises that chased you into this damp grave still rang in your ears. You felt something's presence, but when you looked around, there was nothing. You closed you eyes and press on, you must find help, shelter, anything in this cold wasteland. 
After hours of torturous searching, you finally find a small, abandoned fox den. You limped inside, your legs frozen and weak, and collapse on the stone floor, blood beginning to pool as the thought of rest consumes you. Your last clear thoughts are if you will even survive until the next morning as you fall asleep.
You blink your eyes open, dawn's light streaming through the entrance of the cave, and temporarily blinding you. There is movement next to you. You shake the frost that had settled on your pelt overnight off and look up. As your eyes ajust to the light, a small cream colored canine appears next to you.
"Are you okay?, she asks, "Our pack is nearby." The canine glances at a small hole in the burrow.
You stutter nervously. What could this dog be talking about?
The canine trots over to a hole in the burrow. "I am Hope, Beta of the Pack of Harmonious Howls. Follow me, the Alpha is waiting outside." She leaped out of the burrow in a fluid motion, disappearing into the bright sunlight.
You turned towards the hole in the burrow, a silver muzzle reaching in and dragging you out of it carefully.  As you emerge from the burrow you notice many things. The beautiful light of the dawn is everywhere, completely transforming the once gloomy forest into a paradise. As you look around the forest, your eyes stop the dog the silver muzzle belonged to. It was a beautiful silver wolf, her fur rippled as she spoke, the sunlight streaming down upon her making her fur shimmer. The silver wolf spoke, her voice gentle, like that of a calm stream.
"I am Mist, Alpha of the Pack of Harmonious Howls." She gently helps you to your paws. "You are safe now." She smiles sweetly, then motions with her tail for you to follow her.
 Speechless, you fall in behind the wolf through the forest you once thought would be your end. After travelling throug various locations, you pass a small stream, and round a corner, coming out into a large clearing.
You follow Mist into the clearing, wolves and cats alike scurrying around camp hard at work. As soon as Mist entered the clearing though, they all paused in their work and looked at her, trying to find out weather you are friend or foe. A few pups scurry up to you, and begin to ask you questions.
"Who are you?"
"Where did you come from?"
"Why do you smell so weird?"
Hope shushes them, bounding ahead as Mist hops up onto a stump nearby, her fur shimmering. 
"Welcome to the pack," She says, "We are peaceful, strong and harmonious above all else." Hope leaps onto the stump next to Mist. She flashes you a smile, lifting her head to speak.
"Welcome to your new home."

We are the canines of the forest; cunning, intelligent, favored by Forest Dog. We are sometimes peaceful and harmonious, but other times we're merciless, brutal, feared, and deadly. We are the line between good and evil.
We have a paw in both worlds, but we are one.
General Information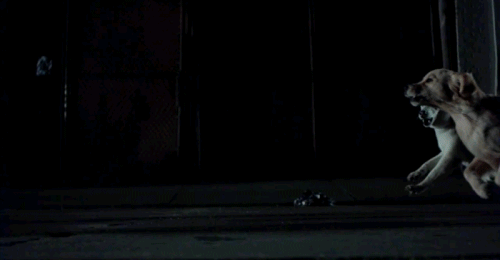 ----
Recruiting?
Of Course!
Orientation 
Neutral (Semi Dark)
Member Count
55
Theme Song
Beautiful now [Zedd]
Species 
Dogs, Wolves, Coyotes (Most Other Canines Are Allowed, But Not Preferred.)

Domesticated/Big Cats (Not Preferred.)

Carnivorous Bears (Not Preferred.)

Any Realistic Hybrids, Specifically Wolfdogs

Notice: Any species outside of North America must have an explanation in their backstory for the 'reason why they are there.

Tag Color
Dark Blue
Server 
Grande
Camp

Mist (Chncprincess04)'s Den

Back Up Camp
N/A
Belief
The Spirit Dogs
Naming Format
One-Segmented

Two-Segmented

Tribal (Not Preferred)

Names Such As "Tiny, "Lick", or "Squeak" For Pups/Sharpclaw Kits/Cubs Until They Reach 6+ Months Of Age

Wolves Usually Have Descriptive Names Like "Brave", "Graceful", "Daunting", Etc.

Foxes Have Names Like "Fox Dawn", "Fox Sky", "Fox Cloud", Etc. (Fox Cubs Replace The "Fox" With "Cub")

Roleplay Style
Traditional with some advanced
Season
Spring
Prey
Most normal prey.
Conflict
None
Subpages

Rules
Note: Punishments majorly vary and are completely unpredictable. Breaking serious rules can result in exile, even for pups.
~Do not post more than three messages in a row on the page, it fills up the page and is spamming~
~Powerplaying in any way will not be tolerated unless the opponent is powerplaying. All of the following is considered powerplaying: Dodging (Rare exceptions), healing automatically, superpowers, 'missing', acting strong when wounded severely, killing anything other than prey automatically, NN (Not very seriously considered powerplay), etc.~
~We will NOT under any circumstances tolerate Latin or anatomy in roleplay. The only exception is apex. Words like "ebony", etc. are allowed but not preferred.~
~Double-Grouping with a different OC is allowed, but not preferred.~
~Goofy behavior when roleplaying is not allowed. It's very irritating for the leader for to have to remind someone over and over to be serious.~
~No killing packmates without the Alpha or Beta's command.~
~Be realistic. No acting like a human or leashed dog. Pink pelts (excluding hot pink) are only accepted for hairless animals. Other very unrealistic pelts are only animals that have been dyed.~
~No naming an OC Lucifer, Satan, Jehovah, Jesus, or any other religious names, as this is unrealistic and disrespectful towards religions.~
~Members must not follow any religions other than the Spirit Dogs and The Great Wolf.~
~Though two-segmented names are allowed, sharpclaw kits in the Pack cannot have names such as 'Bluekit' or 'Stormkit'-they must have pup names. They can only have clan names when it is time for their Naming Ceremony, and they cannot change it after that. So if they call themselves 'Leafpaw', etc., that will be their name forever no matter their age. The same goes for Tribal names.~
~Major drama is prohibited, thought minor drama is fine. Please no all-the-time getting hurt by something imaginary, poisonous gas, random wolf attacks, etc.~
~Be fairly active on Animal Jam.~
~No pestering or asking for a higher rank.~
~Try not to back down. If you need help, alert the pack with jamagrams having the howling wolf background, then howl in roleplay to make it realistic. If you are sent one of the these jamagrams, help your pack-mate as soon as possible.~
~NO slang or swearing will be tolerated.~
~If you need to say something outside of roleplay, border it like roleplay. EXs: (I have to go.) (( I have to go.))~
~No changing avatars in roleplay unless your OC is maturing or you become ~
~Listen to Alpha and Beta, especially during war. They have the power to exile or punish you afterwards.~
~No power-seeking or making prophecies about your OC.~
~Tell Alpha about all important matters.~
~We don't follow the Warrior code or use Warriors terms. StarClan is irrelevant.~
~No annoying or stressing members, whether it be in or out of roleplay.~
~Mother-Dogs must go back to their original duties when their pups are a few weeks old.~
~No whining about or excluding nonmembers.~
~Alert the Alpha before going on hunts or patrols.~
~No using "le" in roleplay.~
~Rules for pups, mates and parents are here.~
~NO false accusations towards members, allies or rivals.~
~No growing unrealistically fast.~
~No attention-seeking. It's extremely annoying and rude.~
~Alpha is usually the only member who can deliver punishments, declare war, accept new members, etc., though the Beta or Third Dog may sometimes take part.~
~No randomly attacking other groups without the Alpha's and Beta's consent.~
~No cowardly behavior or distrust in the leaders. plans are their concerns, not yours.~
~Canines do not unsheath claws.~
~Please do not use the following terms: Fae (Meaning Faerie), Mitts (Means Mittens), or Tassel (A piece of cloth with a tuft on it.)~
~Do not question the Alpha or Beta, though respectfully reminding them of flaws in plans is fine.~
~We do not have weddings as it is extremely unrealistic.~

Dress Code 

Head:Head flower, Flower Crown, Big Skull, Cat Ears (DOMESTIC CATS ONLY), Rose tiara, Clover hair pin, Spring dragonfly hair pin, Holly tiara, Rocker hair, Spring flower crown, Butterfly hair bow, NothingNeck:

Leaf Necklace, Deer Fur, Spring Amulet, Pinecone Necklace, Lei, Fang Necklace (Not Preferred), Flower amulet, Feather necklace, Moon necklace, Spiked collar, Nothing

Back:

Worn Blanket, Nothing

Paws:

Leaf Leg Armor, Vine Anklet, Flower Bracelet, Spring Flower Bracelet, Seashell Bracelet, Jamaaliday leg armor, Furry cuffs, Nothing

Tail:

Feather Tail, Rocker tail rings, Skullys, Nothing

Badges
Alpha - Arctic Wolf
Beta - Howling Wolf
Third Dog - Lighting Bolt
Hunters - Paw
Scout Dogs - Raccoon
Patrol Dogs - Arctic Fox
Mother-Dogs - Heart
Healers - Flower
Pups - Fox
Omega - Lynx/Monkey
Ranks
Alpha
(NOT CHALLENGEABLE)
Leader. Extremely respected-more than any other member or outsider and is often feared. Makes all important decisions and rules in most cases, with help from Betas and the Third Dog. Sometimes spies or hunts if she/he desires. Must be obeyed. Is the only member allowed to accept alliances, give punishments or start wars. Cannot be exiled. (x1)
Beta
(NOT CHALLENGEABLE)
Technically a deputy. Respected very highly, almost as much as Alpha. Can hunt or spy if she/he desires, like the Alpha. Helps Alpha make decisions and becomes Alpha when the original one passes away. (x1)
Third Dog
(CHALLENGEABLE)
Third in command. Has high respect but less than Alpha or Beta's. Helps to organize patrols/hunts and has similar duties to Beta. Takes part in official decisions and often supervises lower ranking. members. (x1)
Hunters
(CHALLENGEABLE)
Are responsible for hunting. There's usually a Lead Hunter who has higher respect and often leads hunts-they are sort of like "fourth in commands". (xunlimited)
Scout Dogs
(CHALLENGEABLE)
Go along with hunters and sniff out for dangers. Usually a Lead Scout-Dog who has higher respect and often has superiority over the other Scout Dogs. When hunters need to leave their kill to hunt for more, two Scout Dogs must guard it. They also must help to fight off any problems during hunts. (xunlimited)
Healer
( NOT CHALLENGEABLE)
They are the healers of the pack, they are skilled in herbs and taking care of the wounded and sick. They also have a novice in which they teach all of what they know to them. There can be two healers and one novice, rarely two novices. (Considered high rank but can apply)
Patrol Dogs
(CHALLENGEABLE)
Guards of the Pack who defend territories. There's usually a Lead Patrol who leads patrols and higher respect. Must have fair sight, smell and hearing. Can hunt during some patrols, but must stay more focused on the patrolling. (xunlimited)
Mother-Dogs
(NOT CHALLENGEABLE)
Nursing or expecting mothers. Temporary rank in most cases, though some members, specifically elderly ones, nurse or care for very young, orphaned pups. Must be respected equally, even by higher ranks. They do not attend war. (xunlimited)
Pups/Sharpclaw Kits
(NOT CHALLENGEABLE)
Youngest members of the Pack. Older pups train to become Patrol Dogs or sometimes go on hunts. Weak elders are sometimes categorized as pups. Cannot leave camp without a fully grown member. (xunlimited)
Omegas
(NOT CHALLENGEABLE)
Lowest possible rank. No respect, often picked on. Must obey all members, cannot leave camp. Is called Omega instead of their real name. No bedding. Must gather fresh bedding and bring out meals. (x1)
For instructions on your rank's duties, go to this link.