☽LONG LIVE☾
THE DIVISION

☽EXORDIUM☾
"And so it was to be. A flicker of duration of darkness. It came to be known as life; it's name ancient for that of light. It was her path that dotted the sky with fading stars of our orion and her eyes that summoned the everlasting fathom of the sun. Through eons of creation, life itself became an unequaled perfection. But nothing lasts forever, Welcome to our division. - Nysa/Toybox21"
You crouch, ready to ascend onto the prey up ahead. Its ears twitched. Its cranium turned, locking its gaze spotting you, scattering away. You snarled in frustration as you watched it run off. You stalked off though the murky and stoney taiga. Your rhinarium caught an unusual fragrance. You processed the information, realizing there was a border essence marked on an ancient pine. You felt a little mischievous, so you decided to cross the border of the turf. You felt pride running through your spine, continuing to venture through the unfamiliar turf. The abyss started to grow more humid and more thicker. You notice a faint figure from the distance. Your eyes squinted as you try to make out what was in the abyss. Trying to scent it out was useless now since it was very humid, but somehow the temperature was cool. Maybe I was wrong about coming here. You thought. You then shook away your thoughts, but they seemingly come back and daunt you. You go and continue through out the murky terrain.
After awhile after entering the strange turf you suddenly get an eerie feeling of someone stalking you. More and more thoughts start to daunt you until your cranium descended, only gazing at your ambulating paws. You grew more and more paranoid that you decide to extract your claws for the next upcoming event. The soft and gently song of a river's flow made your ears rise. You followed its calming voice and as you reached it, your cranium descended, drinking the precious aqua. As you had your drink, you ambulated further down the river until you notice the aqua was shallow enough to cross. Safely, you cross to the other side. You still felt as if you were being followed. You continue away from the other side of the bank and seemingly feels as if the abyss were to get thicker and thicker until you can no longer determine what was two feet ahead of you.
As it all happened almost too quickly, something bolted at you from the abyss and rammed into you, locked its jaws partially around your neck. You heard sounds of barking and howling. You tried shaking your opponent off, and succeeded. Something has their claws gouging into your flank. Wolves and dogs! You thought. You try helplessly to defend yourself from the canines. "Such a pity you don't know how to observe and notice we were here." A canis lupus growled from behind you. You were slight impressed how they were able to track you down through the thick abyss. You continue to defend yourself. The other canine bolted back at you and lashed their claws towards your eyes, temporarily blinding you.
Suddenly something much much larger rammed into you, nearly knocking the consciousness out of you. You slowly open your eyes, your vision was fazing. Constant snarling rings into your ears as you gaze towards at a monolithic Panthera Pardus gashing your solar plexus open. Sanguine fluid cascaded down, filling the ground with a pool of the red thick liquid. You yowled in pain, your eyes rolling back. Slowly, your eyes begin to close. Before you go unconscious, you heard mumbling. "What a pathetic creature.. Should we take it back to camp?... Lets see what Tala and Reign thinks what we should do." So then, one of the canines drag your bleeding utter physique through the thick abyss.
You open your eyes to find yourself in a room filled with beautiful exotic herbs. You shifted slightly and groaned in pain realizing what had happened before going unconscious. Your eyes scanned the room, suddenly locking your gaze with a beautiful sleek achromic Ocelot. "Well look who is up. I will let you rest for a bit more until one of the Royals get back from patrolling." She spoke clearly. What are the "Royals", a question floating in your mind. A brown hued male cat stepped in the room. "Hey Storm, is he/she up yet?" He spoke suddenly, then locking his gaze at you. Storm, who appeared to be the Ocelot responded, "Yes, he/she is. Do you know when Reign and Tala will be back?" Storm went on to organizing herbs as the male spoke. "No, but probably soon. I should get back to my duties." He purred, licking Storm's muzzle. Are they mates? Another question appeared through your mind.
A while later a rottweiler came into the den. You suddenly recognize her as one of the canines who attacked you. Fear struck you for a moment, feeling paralyzed. "Storm, may I escort this trespasser to the Royals? All of them have returned." She grunted, her cold-hearted eyes locked into yours as if she came to finish the job and kill you. Storm nodded as the rottweiler stood by you. "Don't you resist or you will end up dead." She growled, biting down and dragging you by the scruff. You tried your best not to resist as you were dragged carelessly across the dusty terrain. You were being dragged towards three large felines who satneat!y together. The first a spotted white female, the second, a lithe black male and the third a tawny female who was shorter than the first two with a much more brawny frame. You recognized their species as Panthera Uncia, Panthera Pardus and Panthera Leo. By then, the Canis Lupus from before sat, his cold gaze staring at you. "I think you clearly understood that you were tresspassing within our borders. Did you not?" The Panthera Leo inquired with an eerie calmness in her tone that sent waves of uncertainty washing over you. For a moment, you were paralyzed, unable to speak as the Lion held your gaze firmly; her pupils narrowed with an expressionless face.
"What are you just laying there for and not answering the superiors?" The Panthera Pardus growled, looking as if he were ready to pounce on you and gash open your solar plexus. "Ajax, Reign, let me handle this." The Panthera Uncia spoke unbelievably calm. "If you say so Tala" Ajax mumbled. Reign's head was turned, gazing over the horizion. She only flicked her tail in acknowledgement to Tala. You felt somewhat of a relief as Tala rose onto her paws. Her calm attitude quickly changed as she accelerated towards you, her claws being placed at your neck. "If you don't answer Reign's question, I will slice your neck open and feed you to my pack." Her voice still seemed calm but her expression looked bloodthirsty. Fear surged in you. You had to respond. "I-I-.." You stuttered fearfully. "I'm sorry! I wasn't thinking, just please let me go!" You yelped. Tala chuckled. "You weren't thinking were you..?" Her grip seemed to ease slightly. Each Superior had paused to observe you beg Tala for mercy. Reing had begin to chortle in your mockery and Ajax's maw had twisted into a humorless grin. Tala's hasp constricted, her claws slowly dug into your neck as if she were to choke you and pierce her claws through at the same time.
"You really think that would be a good excuse and just expect me to let you go that easily? Well guess what we are no ordinary pack. Trespassing violates against us, which means you will be punished. Don't even try to resist." You were panicking, not sure what to do. She continued. "Now, Kitten-fluff." Tala jibed quickly "We're feeling quite generous today. I'll make this an easy choice. Join us or die." She bellowed. "Your death would be long and excruciating. Make your consent wisely." Reign added.
We are The Fallen Division...

☽SYNOPSIS☾
☽ ☾

Founded

7-14-17

Founders

123paw123 & yandere45678

Status

Active and Recruiting!

Realm

Dark

Species

Panthera, Canis Lupus, Big Dogs, & Felis Catus

Roleplay Style

Advanced & Traditional

Server

Comet

System

None

Tag & Badge

Black;Zios

Camp

SnowflakeAET's den
☽PAGE EDITORS☾
Name|Wiki
Tala| -FLØPS-
Tea| netflixandtea
Obsidian | Daddy Obsidian
☽EXILED☾
Username|Reason(s)
Shriodacreepy1|left during trial
Treehugger79|Causing Drama
Hipie118|Causing Drama, double
Foxyisawesomefnaf|Left during trial

☽REGULATIONS☾
I. Double Grouping
Double grouping with any clan/pack/tribe is unacceptable and strictly forbidden in The Fallen Division. There is a reason why you must pledge your loyalty oath when you enroll. The purpose of the oath is that you promise to NEVER betray your pack and NEVER double group. Double grouping is considered unloyal, ungrateful, & determines you as a traitor. You are to REMAIN loyal at all times in The Fallen Division, and if you fail to follow this law, you shall be banished or worse, killed.
II. Attire
When we roleplay you must ALWAYS be on the correct attire for your oc. There are no exceptions. Consequences may be fatal if you do not follow this rule. Down below are the acceptable clothing attire.
ATTIRE
Head - Flower crown (all three types), head flower, skull helmet, fox hat, raccoon hat, or none
Neck - Jamaaliday scarf, spike collar, leaf necklace, ribbon scarf, lei or none
Back - Jamaaliday bow, worn, bow and arrows, pirate sword, spartan armor, elf armor, or none.
Legs - Leaf bands (freedom bands also accepted), elf bracelets, nonmember glove, legendary glove, or none.
Tail - Elf tail or none.
COLORED PELTS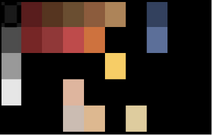 III. Activity
You always must be active. Even if you are on but you have not roleplayed with the pack, it will conclude as inactivity. If you know you won't be active at some point of time, please, let the Royals or Ambassadors know. Though, excuses that don't sound believable won't be acceptable for not roleplaying with the pack. If you are not active for 2 weeks, you will be exiled.
IV. Roleplaying
For those who are not familiar with the world of roleplaying, let me give you the basics. DO NOT POWERPLAY. It is strictly forbidden and an unfair advantage to your pack. Using NN ND NM and dodge counts as powerplay. We have other options of how you roleplay. We allow descriptive, traditional, and advanced roleplay so please, try using one of them.
V. Avatar
Using the correct avatar is VERY important when roleplaying in The Fallen Division. If you are not familiar with this, the only Animal Jam avatars you may use during roleplay is bunny (for kits/novices), fox (for novice), and wolf (for gladiators or higher ranks). Your colored pelt may only be natural colors that your breed has. If not, there will be consequences.
VI. Returning
Once you leave, you are only allowed to return ONCE. We are NOT a hotel. Especially if when you want to join your buddy in another clan and come back because you didn't like it.
VII. Tag Color & Badge
You are to ALWAYS have on your pack's tag color and badge. If you change it, it may consider as double clanning. So be sure to ALWAYS have on the correct color and badge
VIII. Youth & Novices
First of all, for the Youth of the pack, they are strictly NOT allowed to leave camp. The Youth must be supervised at ALL times including when they have permission to leave camp for special purposes. For Novices, they must ALWAYS be supervised when they go out hunting, gathering herbs, checking borders, etc. This is a very important law to follow which regards safety means.
IX. Drama
Unnecessary is strictly forbidden from the pack. It can cause issues to others in the pack and allies. If you want drama, fill out the plot application and wait for it to be approved by the authorities.
X. Loyalty Trial
It's unnecessary enough to have double groupers in our pack. What to do to resolve this? The answer: a loyalty/activeness trial. When you are accepted into the pack, you are automatically on a loyalty AND activeness trial. The trial lasts to 7 days as we roleplay. If you fail to be loyal or to be active during your 7 day trial, you will be banished and you will never be able to return.

☽HIERARCHY☾
THE IMPERIAL FACTION
| | |
| --- | --- |
| ROYAL | AMBASSADOR |
| ☽x3 3/3☾ | ☽x3 3/3☾ |
| | |
CLASSIFICATION
ROYALS

CHARACTER
USERNAME
GENDER
MATE
Tala 
Yandere45678
♀
N/A
Celine
SnowflakeAET
♀
Ares
Ares
123paw123
♂
Celine
AMBASSADORS

CHARACTER
USERNAME
GENDER
MATE
Obsidian
DarkLegendz
♂
N/A
Tea
Netflixandtea
♀
N/A
--
--
--
N/A
THE ARISTOCRATIC FACTION
| | |
| --- | --- |
| WARLORD | ELITE |
| ☽x3 2/3☾ | ☽x5 0/5☾ |
| | |
CLASSIFICATION
WARLORD

CHARACTER
USERNAME
GENDER
MATE
Eery
Bubbleswim
♂
N/A
Enrique
Leaderblustar
♂
N/A
--
--
--
N/A
ELITES

CHARACTER
USERNAME
GENDER
MATE
--
--
--
--
--
--
--
--
--
--
--
--
--
--
--
--
--
--
--
--
THE MEDICAL FACTION
| | |
| --- | --- |
| ELITE SHAMAN | SHAMAN |
| ☽x3 1/3☾ | ☽x5 0/5☾ |
| | |
SHAMAN JUVENILE
☽x3 1/3☾
CLASSIFICATION
ELITE SHAMAN

CHARACTER
USERNAME
GENDER
MATE
Ghetto
Riorumble
♂
N/A
SHAMAN

CHARACTER
USERNAME
GENDER
MATE
Beau
Chaineddown
♂
Adara
 SHAMAN JUVENLIE

CHARACTER
USERNAME
GENDER
MENTOR
Buttermilk
bitina213
♀
N/A
THE COMBATIVE FACTION
| | |
| --- | --- |
| GLADIATOR | SCAVENGER |
| ☽x∞ 5/∞☾ | ☽x∞ 1/∞☾ |
| | |
CLASSIFICATION
GLADIATOR

CHARACTER
USERNAME
GENDER
MATE
Taesun
Kawaiikonata
♀
N/A
Sol
Trini231
♀
N/A
Echo
Fotoingobug
♀
N/A
Hazel
Jammer6zmjdv
♀
N/A
Yasmin
Kiarame1
♀
N/A
Sirius
Seraph1m
♀
N/A
Whiteout
Olivermoon
♂
N/A
Aqua
odacool100
♂
N/A
Napolean
Boltthecat10675
♀
N/A
SCAVENGERS

CHARACTER
USERNAME
GENDER
MATE
Smoke
Bitina213
♀
N/A
Scourage
Tigerlover911
♂
N/A
THE FOSTERING FACTION
| | |
| --- | --- |
| CARETAKER | MOTHER |
| ☽x∞ 0/∞☾ | ☽x∞ 0/∞☾ |
| | |
THE JUVENILE FACTION
| | |
| --- | --- |
| JUVENILE | YOUTH |
| ☽x∞1/∞☾ | ☽x∞ 3/∞☾ |
| | |
CLASSIFICATION
JUVENILES

CHARACTER
USERNAME
GENDER
MENTOR
Dove
Bikinggirl
♀
Tea
YOUTHS

CHARACTER
USERNAME
GENDER
MATE
Leia
Whitebunny418
♀
Tala
Fala
roZZse
♀
N/A
Nairobi
Ignominious
♀
N/A
THE ANCIENT FACTION
SENIOR
☽x∞ 0/∞☾
CLASSIFICATION
SENIORS

CHARACTER
USERNAME
GENDER
MATE
--
--
--
N/A

☽ASSOCIATIONS☾
Group

FIC's Name & Username

SIC's Name & Username

Realm

Relation

The Purified Tides

Tidal |Aquasplasher &

Ripple |Hallxwed

Nighttail | Mancatman

Neutral

Ally

☽SCHEDULE☾
EASTERN TIME SCHEDULE
(weekends are free days!)
Mon.

Tue.

Wed.

Thur.

Fri.

4-8

pm

5-9

pm

4-9

pm

5-9

pm

4-10

pm

☽APPLICATIONS☾
☽ENROLLMENT☾
Name
Animal Jam Username
Desired Rank
Gender
Sexual Orientation
Roleplay Example
Reasons To Join
How Did You Find Us
Are You Active
Loyalty Oath
☽ALLIANCE☾
Group Name & Link To Page
FIC(s) Name & Animal Jam Username
SIC(s) Name & Animal Jam Username
Reasons To Ally
Benefits For Both Groups
Realm
How Did You Find Us
☽DEPARTING☾
Name
Animal Jam Username
Reasons To Leave
Any Recommendations To Make Us A Better Group?
☽PLOT☾
What Is It About?/font>
What Will Occur?
When Will It Occur?
Who Is Involved?
☽VISITING☾
Name
Animal Jam Username
Current Group
Date Of When You Visit
Expiration Date Of When You Visit
Roleplay Example
How Did You Find Us

☽MEMORIES☾