== Tristan Information== Triston is a large Beauceron Dog. He has amber eyes, and normally wears a Blue Collar. His owner is a Firefighter named Max. In the free time, Max and Tristan actually go surfing! They compete in Dog-Surfing Compitions.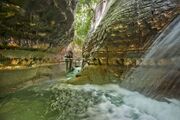 Here's his theme song!: Adele - Hello (TRXD Remix & Leroy Sanchez Cover)
Tristan also wears a Whale-Shaped Tag made of Wood on his collar.