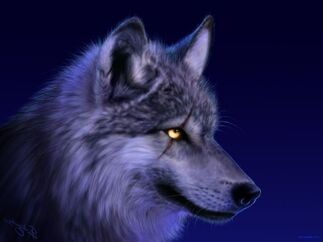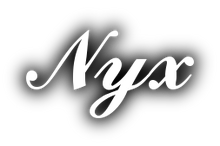 "The Strength Of The Wolf Comes in Its Four Paws; Compassion, Kindness, Love, and Courage." Edit
Backstory
Edit
Nyx was born alone. Her parents were unknown, only given enough strength and nourishment to open her eyes, only to find herself abandoned in a dark cave. At the entrance, the cave was greeted by a mountainous valley of daunting crevices and monstrous shadows, lurking with danger. As a pup, a voluminous falcon aimed to eat her, as it circled overhead. Nyx interlocked with a reckless battle with the falcon, resulting in a long, pale pink scar down her left eye. From then on, she knew she had to fight for what was hers, to stand up against the world on her own paws, no softness..ever. Nyx was brought up by a series of wolves and packs, who taught her how to be sinister, ruthless, and heartless. She never learned to truly love and care, only blood and gore guiding her shadowed path. Her rampage of evil even got her exiled and shunned through many wolf groups, which poisoned her twisted heart more.
However, through the course of her life, Nyx softened and learned to love, through the help of the ones she chose to care about. Her nefarious, villainous past thrown behind her. Slowly her heart opened...
Now, Nyx rests in the sanctuary of Northern Stride, a pack she has grown to love so dearly. Reaching a mildly old age, she remains their praetor, and hopes to serve them for many years to come....

NOTE: NYX WAS KILLED BY HUNTERS; SHOT DEAD BY BULLET SHOTS. SHE DIED WITH HER FAMILY; OMEN AND STRIDER.
Basic Information
Edit
Age: 32 months
Sex: Straight, Female
Mate: Phobia <3!
Past Mates: Oak, Talon, Tobias
Past Offspring: Patchkit (DECEASED)
Position: Currently the Praetor (2nd in Command) of Northern Stride
Real Mother: unknown
Real Father: unknown
Adopted Mother: Coven
Adopted Father: Omen
Siblings: Anthem and Strider
Status: DECEASED (inactive)
Description
Edit
Physical Appearence
Personality Description
Parents
Siblings
Nyx is a voluminous, majestic, outlandish

feminine Gray Wolf. Her pelt is a dark, smoky gray,

with hints of navy blue. Nyx has a shadowed black

underbelly. She has a pair of enchanting, yet

intimidating pale azure eyes, nearly white, with a

long, pale, pink, skinny scar down her left one.

Nyx is a serene, beautifully

hued, regal, voluminous,

cunning composure of a

Gray Wolf. She can lose her

temper fairly quickly, and

can't tolerate her self respect

being neglected or trifled

with.

Adopted

parents:

Omen &

Coven

Anthem

and

Strider

My Mate: PHOBIA <3!!!!
Nyx's Quotes
Edit
No, I didn't steal any quotes, I actually made these up :)
"I believe in the Sun. even when its not shining. I believe in Love, even when I'm alone." ~from the Holocaust
"Never doubt my power, for it will thunder upon you, making you cower, tremble; your ultimate demise."
"Light one candle, inspire the others."
"There is always light at every tunnel, which is ours to acquire."
"Every failure is my strength, every stride is a goal, every laugh is my hope."
"The strength of the wolf burns inside like a roaring flame, giving warmth and prosperity to its peers, or destroying everything in its path."
Nyx's Strengths
Edit
Nyx is very good at being an authority or being a leader of some sort
Excellent at planning
Stands up for the truth
Can't tolerate any disrespect
Very honest, loyal, and trustworthy
Nyx's Flaws
Edit
Sometimes too honest
Can't stand kits, occasionally uncomfortable around pups
Can be quick to battle/argue
Nyx x Phobia!!
Edit