This format belongs to BrookieBlueDraws! It is free to use with credit, and you can find the blank version here.
↤☓↦

NITHYA

↤☓↦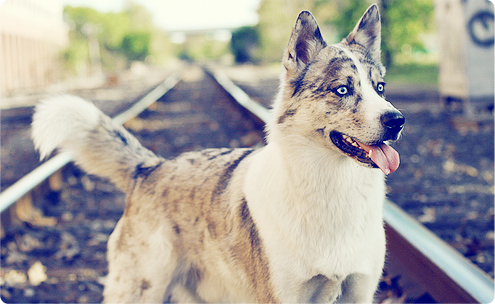 ↤☓↦
BASIC INFORMATION
ROLEPLAYER INFORMATION
Animal Jam Username
Corruptedwinters
Wiki Username
Expes
Status
Active
CHARACTER INFORMATION
Gender
Female
Sexuality
Heterosexual
Age
2 Years
Breed
Husky X Australlian Shepherd
Status
Active
Orientation
Neutral
GROUP INFORMATION
Residence
None
Past Groups
The Animosities
Current Rank
None
Past Ranks
Houndjenicon
EDUCATIONAL INFORMATION
Mentor

None

Apprentice
None
MISCELLANEOUS
Voice
N/A
Scent
Fresh Dew and Blossoms
Theme Song
Logic
↤☓↦
APPEARANCE
PELT
Base

   

Underbelly

   

Markings

   

EYES
Sclera

   

Iris

   

Pupil

   

DESCRIPTION

Nithya is a Australlian Shepherd Husky mix, her fur is a Mixture of White, Browns, Grey's and blacks.  Nithya has striking, light blue eyes, and a lone scar on her right hind leg.
↤☓↦
PERSONALITY DETAILS
POSITIVE

Adaptable- Nithya has gone through a lot in her life;

therefore she had to adapt quickly and thoroughly.

Loyal- Nithya, although has been in a few packs, has

always remained loyal as she felt that it was her duty to that pack.

Optimistic-  Nithya is very optimistic, many describe her

as a little nutty, a little crazy, but in a time in need she'll look

on the bright side.

Hopeful- Nithya is a very hopeful dog. She may be a little crazy, but she always only sees the best in people and has a ton of hope.
NEUTRAL
Shy- Nithya may seem like she wouldn't be the one to be shy, but around new people she is extremely shy.
Aggressive- Nithya is also aggressive when it comes to her friends and pack-mates. As well as she's aggressive over her food as she once was starved by another dog.
Witty- Nithya enjoys her witty remarks, and makes sure to include one in when she speaks to another. She doesn't mean it to be mean, just to be funny.
Over-Honest- Nithya does not hold back when speaking to you. When she ask for her opinion, you'll get the brutal truth from her.
NEGETIVE
Rude- Sometimes, when Nithya is in a mood, she can often be a little rude. When she is in a mood, she doesn't actually mean to be rude to you.
Cruel- Nithya does enjoy being cruel and sadistic. She enjoys being a bit to much when killing a foe or prey.
Sinister- Nithya does enjoy the last breath and the light leaving the eyes of her latest vicitm.
Gullible- If you say anything to Nithya, the likely hood of her actually believing it is strong, even if it is something stupid.
LIKES
Soft-spoken Wolves
Funny wolves
Winter
Rain
DISLIKES
Crudeness
Ignorance
Summer
Thunder
DESCRIPTION
Nithya is a one-of-a-kind wolf, and you won't meet anyone like her. She may be small, but she's packed with personality and gets to know another very easily. She loves to listen to others, and help out when needed. And when in a time of seriousness, you can count on her to be serious and helpful.
↤☓↦
STATISTICS
PHYSICAL
Hunting
8/10
★★★★★★★★☆☆
Fighting
6/10
★★★★★★☆☆☆☆
Herbology
2/10
★★☆☆☆☆☆☆☆
Defense
5/10
★★★★★☆☆☆☆☆
Offence
5/10
★★★★★☆☆☆☆☆
Agility
8/10
★★★★★★★★☆☆
Strength
5/10
★★★★★☆☆☆☆☆
MENTAL
Confidence
6/10
★★★★★★☆☆☆☆
Self-Esteem
5/10
★★★★★☆☆☆☆☆
Self-Worth
5/10
★★★★★☆☆☆☆☆
TBA
?/10
★★★★★☆☆☆☆☆
TBA
?/10
★★★★★☆☆☆☆☆
TBA
?/10
★★★★★☆☆☆☆☆
TBA
?/10
★★★★★☆☆☆☆☆
↤☓↦
RELATIONSHIPS
FRIENDS
NAME
RANK
TRUST RATE
nithya
doesnt
have
friends
she's
lonely
KIN
NAME
RELATION
ALIVE/DEAD
Xandra
Aunt
Alive
Ben
Uncle
Alive
FAMILY TREE
TBA
↤☓↦
LOVE LIFE
BASIC INFORMATION
Sexuality
Heterosexual
Status
Single
Crushing?
Classified
DETAILS
Current Crushes
Classified
Past Crushes
Classified
Wolves Crushing On Nithya
if you are put here
THOUGHTS ON CRUSH
um
SHIP NAME WITH CRUSH
um
ATTRACTIONS
Smart
Good Personality
TURN-OFFS
Cockyness
Ignorance
↤☓↦
MEMORIES
QUOTES
QUOTE|From ___ To ___
QUOTE|From ___ To ___
FUNNY MOMENTS
add funny pics here please
↤☓↦
TIMELINE
TITLE
Story
TITLE
Story
TITLE
Story
↤☓↦
GALLERY
↤☓↦