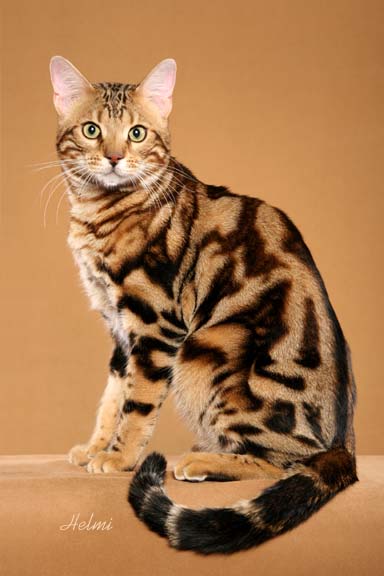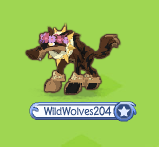 | | |
| --- | --- |
| Name | Falconmoon |
| Owner | Xfalconmoonx/WildWolves204 |
| Age | 32 Moons |
| Gender | Male |
| Sexuality | Pansexual |
| Orientation | Neutral Leaning Dark |
| Position | N/A |
| Breed | Bengal Cat |
| Affiliation | N/A |
| Religion | StarClan |
| Mate | Nightfall/Forsakenheart |
| Theme | Demons - Imagine Dragons |
| Status | Inactive |
♠ Description ♠
Breed: Bengal Cat
Height: 90 cm (At the shoulder)
Eye Color: Sunset Yellow
Scent: Falconmoon has a nice soft smelling scent that's pleasing and aroma-therapeutic.
Fur: Falconmoon has a lighter brown overcoat with a tan undercoat, and he has black markings all over his body.
Defects/Scars/Flaws: Falcon is blind
Items In-Game: Gold Long Spiked Collar, Pink Flower Crown, Tan Elf Bracelets
Voice: James McAvoy
Other: None
♠ Personality ♠
Goofy
With his well upbringing, Falcon is a very funny, goofy, and joke-slingin' feline. He prefers to crack his jokes with his friends, although if the time is right, he would take the chance and lighten the mood with a good-natured meme.
Happy
With nothing really getting him down, Falcon has the ability to be extremely happy and cheerful.
Trustworthy
Falcon is great at keeping secrets, no matter what they are or how much damage/good they could cause.
Absent-minded
Alot goes on in Falcon's mind, and he's sure to space out no and again. Although he tries to pay attention, even at his best he can't seem to focus.
Protective
Falcon is extremely protective, becoming aggressive when one of his own is put in danger. He will fight to the death to protect those he loves and cares for.
Aggressive
Along with being extremely loyal, he will become extremely aggressive and violent when defending his loved ones.
♠ Likes/Dislikes ♠
Likes
Peaceful ambiances
Meat
Grass
Sunlight
Dislikes
Discrimination
Illness/Sickness/Disease
Losing
Silence
Hate
Unnecessary Fighting
♠ Fears ♠
Losing
Falcon hates losing, but won't allow others to view his angrier side. He loves winning, and fears being humiliated as the loser in anything.
Fighting
Falcon hates and fears fighting, as he has lost many to battles and doesn't desire the same events to repeat themselves.
Illness
Falcon has a deep-rooted fear of illness and disease, as an illness claimed his grandparents when he was young.